Best Places To Visit in Rishikesh On Your Next Trip
Rishikesh, known as the "Yoga Capital of the World," became well-known after the Beatles, a well-known English rock band paid a visit there in the 1960s. The well-known band spent time at Maharishi Mahesh Yogi's Ashram in search of spirituality.
When visiting this spiritual city, spending some time at this ashram is a given, but there are a lot of other locations that demand your attention. River rafting at Shivpuri is a great way to start the day. After a quick breakfast at one of the riverside cafes, explore the numerous stores lining Laxman Jhula.
Finally, unwind at the Ghat and immerse yourself in the evening's spectacular and utterly serene Ganga Aarti. Take notes from this one if you require a comprehensive guide to assist you in creating your full itinerary.
Continue reading to learn about the top attractions in Rishikesh:
Places to Visit in Rishikesh:
| | |
| --- | --- |
| 1. Laxman Jhula | 2. Ram Jhula |
| 3. Tera Manzil Mandir | 4. Shri Bharat Mandir |
| 5. Triveni Ghat | 6. The Beatles Ashram |
| 7. Shivpuri | 8. Neelkanth Mahadev Temple |
| 9. Jumpin Heights | |
1. Laxman Jhula, Rishikesh
Laxman Jhula, one of Rishikesh's most well-known locations, is a 450-foot-long suspension bridge that rises 70 feet over the river. The 1939-built bridge is a major tourist destination since it is thought to be the location where Lord Laxman is said to have traversed the Ganga River on a jute rope.
While there are several eateries on both sides of the bridge, Laxman Temple and Tera Manzil Mandir, which are nearby, are notable locations you should undoubtedly visit. Do pause in the middle of the bridge as you cross it to take in the surrounding hills. There is nothing more bizarre than this!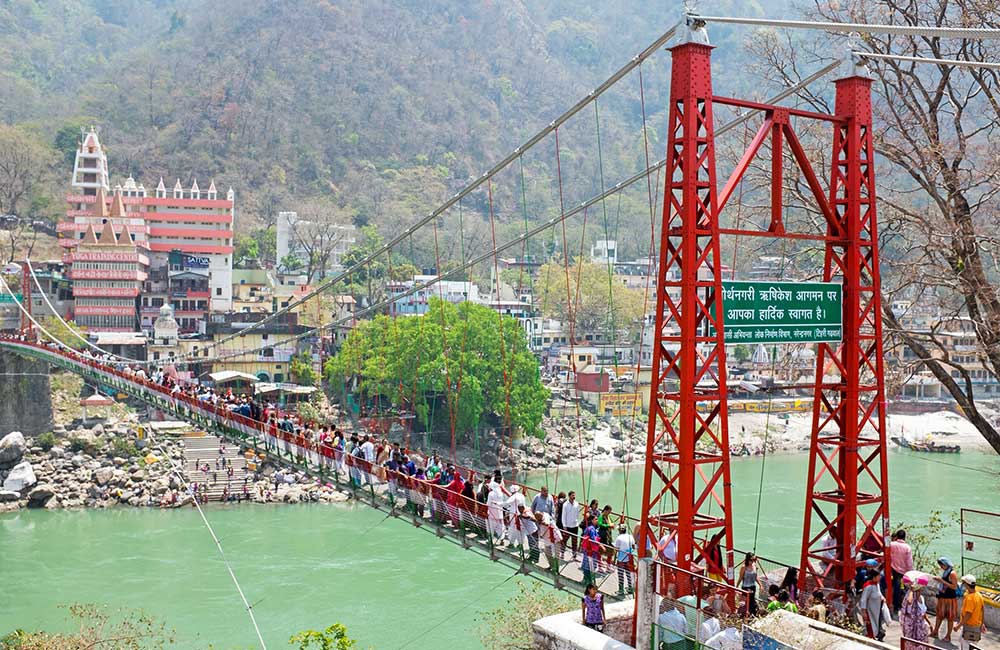 2. Ram Jhula, Rishikesh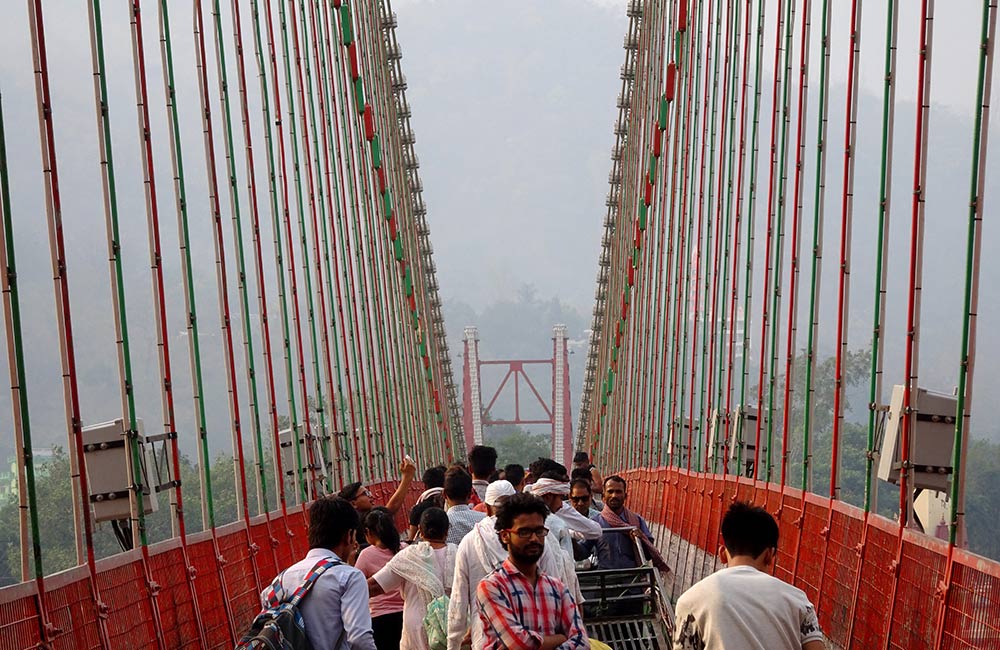 The Ram Jhula is located a few miles downstream of Laxman Jhula. This suspension bridge, which was constructed a bit later than Laxman Jhula in 1980, is almost identical in both structure and construction.
On bright days, the Himalayas may be seen peaking through the clouds as you cross this bridge, and the Ganga River is in full flow. It does make for a beautiful view that you shouldn't pass up when in Rishikesh.
The bridge is also well-known for connecting two well-known ashrams in the area: Swarg Ashram and Sivananda Ashram. This 450-foot-long bridge provides breathtaking views of the surrounding valleys and temples. If you want to take it all in, move gently.
3. Tera Manzil Mandir, Rishikesh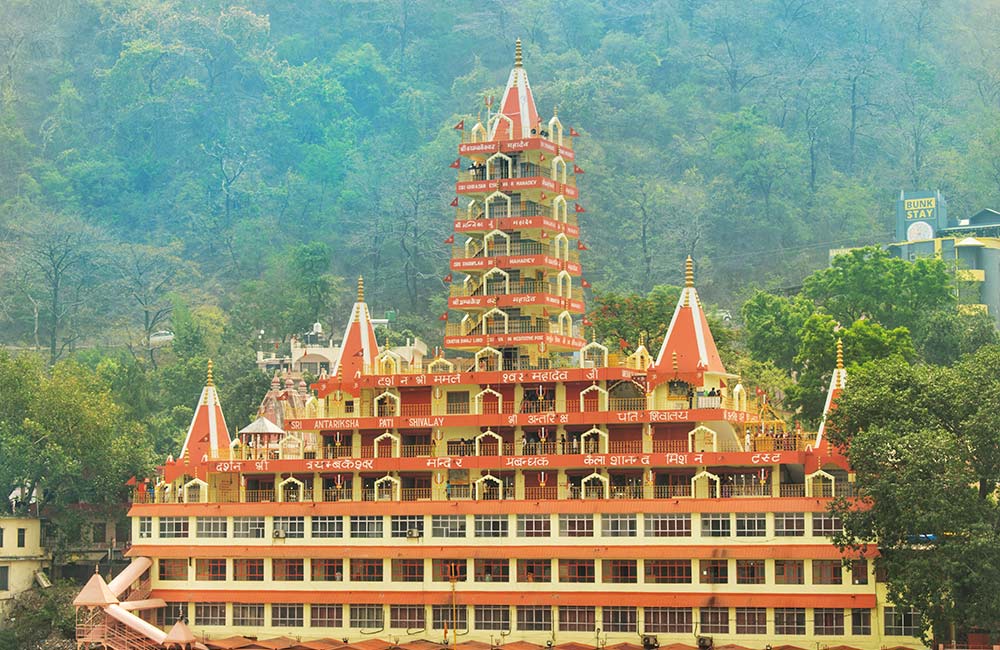 One of Rishikesh's most well-known temples is also known as Trimbakeshwar Temple. As its name suggests, the temple is perched on the banks of the River Ganga and features 13 stories of breathtakingly gorgeous architecture. It stands out from a distance because of its vibrant exterior.
Location: Rishikesh, Laxman Jhula
Hours: 6 AM to 7 PM
4. Shri Bharat Mandir, Rishikesh
Shri Bharat Mandir, a temple devoted to Lord Hrishikesh Narayan, is one of the most venerated and historic buildings in the entire city. There are various mythological tales associated with this magnificent structure. For instance, it is said that the Pandavas stopped at this temple and worshipped Lord Hrishikesh on their trip to paradise. It is also thought that the temple was briefly transformed into a monastery when Lord Buddha visited it in the past. Incredible, isn't it?
Location: Rishikesh, Mayakund, Ghat Road
Timing: Every day, 5 AM to 12 PM and 4 PM to 9 PM
5. Triveni Ghat, Rishikesh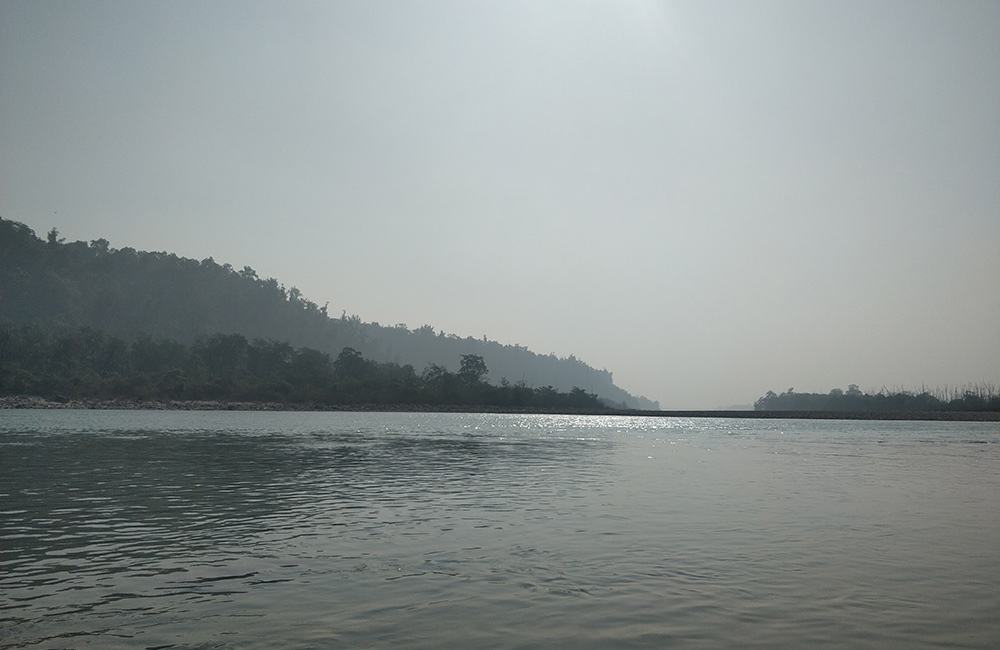 It is one of Rishikesh's most well-known ghats and a lovely location to view the nightly Ganga Aarti. According to folklore, the Ghat is where the Ganga, Yamuna, and Saraswati rivers meet, giving it special significance.
According to Hindu legend, a bath in the holy Ganga water close to the ghat will wash away all of your sins. The ghat is revered. After all, the Ramayana and the Mahabharata, two of our great epics, both reference this ghat.
Enjoy the splendor of the Aarti by sitting near the ghat in the evening.
6. Shivpuri, Rishikesh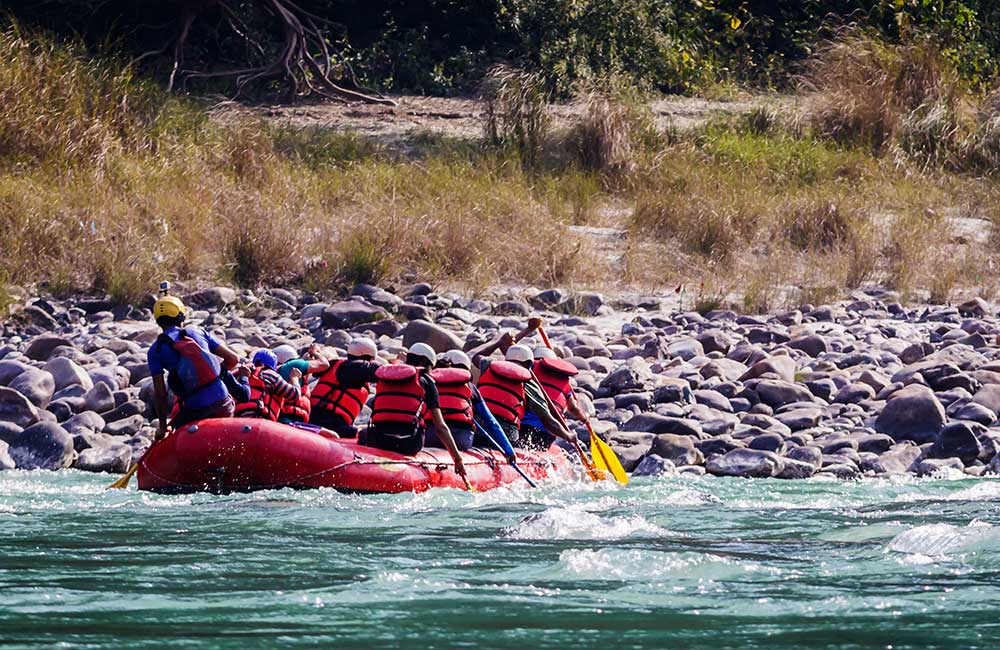 Without participating in the adrenaline-pumping water sport of river rafting, a trip to Rishikesh is not complete. Shivpuri is the ideal location in Rishikesh to partake in one of the most thrilling adventure activities.
River rafting is popular here, and there are many people there who wish to try it. You can choose between a 9-km or a 21-km trip, and Shivpuri has all the necessary supplies and arrangements.
Read also:- Top Kipsta Football Shoes for Men Online